Bank of the Cascades continues to build banking and mortgage expertise…
Sunriver team welcomes new branch manager & assistant vice president.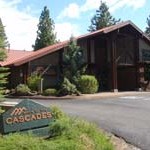 Bend, Oregon (October 30, 2013) — Jeff McCarthy is the new branch manager and assistant vice president for Bank of the Cascades' Sunriver Branch in Central Oregon. McCarthy brings more than eight years of local banking experience and extensive expertise in customer service and mortgage lending to the Bank team.
"We are committed to providing Central Oregon residents with a high level of home lending expertise," said Bank of the Cascades President and CEO Terry Zink. "Jeff's background and skill set, along with his understanding of our communities, will make buying a home in Sunriver easier and more convenient for our customers."
McCarthy most recently served as store manager and assistant vice president for Wells Fargo in Bend and Redmond. He is a graduate of Sierra Nevada College in Incline Village, Nevada.
Bank of the Cascades is the principal subsidiary of Cascade Bancorp (NASDAQ: CACB). Headquartered in Bend, Oregon, Bank of the Cascades delivers personalized relationship banking, competitive financial products, and advanced technology applied for the convenience of customers. Founded in 1977, Bank of the Cascades offers full-service community banking through 28 branches in Central Oregon, Southern Oregon, Portland/Salem and Idaho's Treasure Valley. Throughout its history, the bank has been recognized for its long-standing tradition of corporate philanthropy. Most recently, Bank of the Cascades was named the most philanthropic small business in Oregon by Portland Business Journal (PBJ).For more information, visit www.botc.com.