Visiting Sunriver and Bend Oregon, a locals perspective…
A article read in "Via," AAA's travel magazine prompted me to write this. Often times articles about the area are a lot of fluff. A specific quote from that article really got me going "We're usually skiing 'til the Fourth of July." Not really, unless you are going to hike yourself and strap skiis to your back. Here is the scoop from a locals perspective, I've lived in both Bend and Sunriver for about 6 years total. Before that time, my family visited the area numerous times for family vacations. We love the area! Please allow me to share some opinions on the local scene…
If you want to go to a cool brewery when you visit Bend, don't limit yourself to the Deschutes Brewery. Sure the beer is pretty good and the food is not bad, but they know it and don't deliver a experience that is memorable. It's like going to the "hippest" bar in Las Vegas, you are not valued and service seems not too concerned about you. Another option might be Cascade Lakes Brewery Co, located on the way to Mt. Bachelor, the vibe is more local and the beer is just as good if not better. Try the Monkey Face Porter.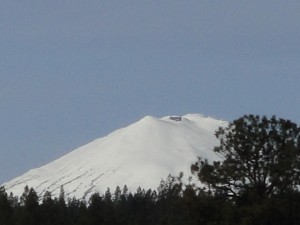 If you are planning on going skiing or snowboarding at Mt Bachelor dress appropriately. The Mountain is a standout in my mind, but you just need to know what you are in for. Don't believe the hype of day after day of pow pow nights followed by blue bird brisk days. There are maybe about ten of those a year, where the conditions are just heavenly. Bachelor is notorious for high winds, closed lifts, and fast icy conditions. To try and mitigate the winds stay low on the mountain and to the east. To find the powder, head for the trees. When the wind blows the powder ends up in the trees. When it is icy, be careful, runs are fast and the legs can turn to jello pretty quick. Frequent breaks can help with that. Take your time and enjoy the day. If you have the chance and are confident in your skill hit up the backside of the Mountain, it is accessed via the summit lift. It is not always open, but when it is and there is powder, it delivers the most magical experience you could ever hope to have on any mountain. It's like you have experienced something that most people never will, that's always cool!
Grabbing breakfast in Bend is almost always a lock for a good expierence. A little place called chow is always good and the service is genuine and friendly. McKay Cottage is probably the most well known and well liked amongst a lot of locals.
If you are out in Sunriver head straight to Cafe Sintra, such a inviting and relaxed atmosphere. The crepes come savory and sweet, the coffee is self serve and is always so good. You can take your time and not feel rushed at all. Another nice spot to head if you dont want to sit down is The Hot Lava Baking Company, located in The Village at Sunriver.
That's all for now, if you have questions or comments you can shoot me a email, maybe I can help shed some more light on the area for you. After graduating from University of Nevada Las Vegas with a Hospitality and Hotel Administration Degree and in turn working in the field for over 10 years its always a pleasure to serve. I'm now a real estate broker with Prudential Northwest Properties. Email: khoak@prunw.com