Information contained in this blog post is referenced from SHARC Plumb Lines, a SROA publication.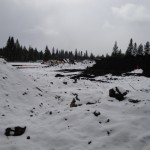 The large sledding hill on the Southern end of Sunriver is all but gone. Barley a mound is left where the sledding hill used to be located, just off Beaver Drive. The earth that used to be the Sunriver sledding hill has been redistributed throughout the new SHARC build site. Trees have been removed, and now tractors, trucks, and many different types of construction equipment are in full motion. The construction is allowed between 7:30am and 7pm Monday-Friday, with no construction allowed on Sundays. I've driven past the site almost daily for the last month and the hard working construction crews are working come rain, snow, or shine. Countless hours are being spent by the SROA on research and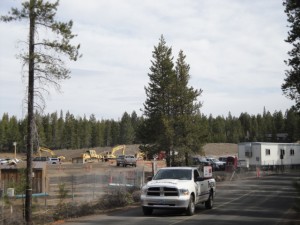 development of the future finished SHARC site, such as fitness equipment, flooring, cafe menus, etc… Plumb Lines even offers interested homeowners the ability to submit a inquiry of reservation for events to be held at the new SHARC site, once completed. Inquiries will be followed up on by the SROA as space reservation policies and structure completed. 
 Here is a timeline of the SHARC site and its completion…
February 2011-Project broke ground

February, March, April 2011-Tree Removal, Asbestos Remedied, Road Closure

May 2011-New Entry from Circle 2, Underground Utilities, Fottings Excavated

May 27th, 2012-Sunriver Homeowners Aquatic and Recreation Center (SHARC) Grand Opening.
Visit http://www.sunriverowners.org/Monthly-construction-update~328245~13934.htm to view archived Plumb Line Newsletters and additional Information.