Hardware Store Camp Abbot Soft Grand Opening May 2017 with Grand Opening June 2017!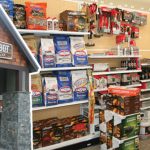 Sunriver has a new hotspot for expanded shopping options with the upcoming launch of Camp Abbot Trading Company, which is set to serve as a wide-ranging general store for the popular residential and resort community.
The project was the brainchild of retail specialist Bob Mitchell, together with his wife Marcie and an experienced management team who all played a major role in putting the project together.
Mitchell bought the former Hammer Time Home Center property on Venture Lane in late 2015 and he and his team set about undertaking a major remodel and conversion early last year – after they inventoried and removed the old product and fixtures – as part of bringing the outlet into the Ace Hardware fold. Mitchell owns 10 Ace Hardware stores in Oregon and Washington, including three locations in Bend… Read Full Story Here!